Welcome to the Bird's Eye View Lesson Plans! We created this section of the web site for teachers to use as the basis for a unit on bird migration or for students to use for self-study. These plans coincide with the Bird's Eye View Virtual Tour and are complete with worksheets, bird projects, bird games, and a bird exam. Each lesson can be applied as a classroom activity to make up a fun and interesting learning experience!

Bird Worksheets (fill in the blank, multiple choice, matching)

Bird Projects

Bird Games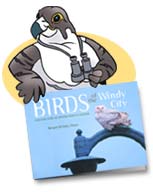 Download the PDF version of the Birds of the Windy City book (1,498 KB).