En Español



Interactive Bird Gallery featuring 24 birds that migrate through Chicago. Flash plug-in required.

A Bird's Eye View focuses on bird migration through the City of Chicago. The Windy City is home to more than 300 species of birds with approximately 7 million birds passing through Chicago on their migratory journey.


A Bird's Eye View highlights bird migration in general, the birds of Chicago, including an interactive bird gallery and map of Chicago birding sites, bird protection, the Lights Out Chicago program, and educational and other resources, including links to lesson plans, publications, links, and bird hotlines.


So what are you waiting for? Come join your tour guide, the City of Chicago's official bird, the Peregrine Falcon, on A Bird's Eye View of Chicago's Migratory Bird Route!



Letter from Mayor Richard M. Daley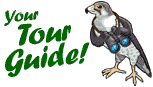 I'm the Peregrine Falcon. I will serve as your tour guide through A Bird's Eye View of the Migratory Bird Route. Every spring and fall I watch more than 7 million birds migrate through Chicago, including fellow Peregrines. So, follow me on a virtual tour of the Chicago Migratory Bird Route!